The Guthy-Jackson Charitable Foundation
Back
The Guthy-Jackson Charitable Foundation
The Guthy-Jackson Charitable Foundation was established in 2008 when our beautiful teenage daughter was first diagnosed with Neuromyelitis Optica (NMO), a life-threatening autoimmune disease. At a time when so little was known about this rare "orphan" disorder, and when there were no existing foundations or advocacy groups focused on solving NMO, we dedicated ourselves to funding basic and clinical research desperately needed to better understand, treat and ultimately cure this devastating disease.
From the start, we saw the need to venture beyond traditional science models: by connecting experts from around the world and across multiple disciplines; by incentivizing the sharing of research vital for life-saving discoveries in the laboratory; and by creating a global community of patients, caregivers, and physicians. We have forged alliances between public and private institutions, and with academic, industry and regulatory partners. Our media has continually pushed the envelope to reach around the world and is helping to spur a groundbreaking global movement on behalf of all those impacted by NMO.
Today, with industry-sponsored clinical trials underway and the promise of bold innovative cures on the horizon, we stand at a new threshold. We believe we have the means to solve NMO. In so doing, we will open more windows to solving many other autoimmune diseases. We do this for our daughter – and all the daughters and mothers, sons and fathers, families, friends and advocates who join us in our mission.
– With hope and gratitude,
Victoria Jackson, Bill & Ali Guthy
Mission Statement
Back
Mission Statement
The Guthy-Jackson Charitable Foundation is dedicated to funding research in the quest to understand the pathophysiology and biochemistry of Neuromyelitis Optica (NMO) Spectrum Disorder. Our Foundation is passionate in its support of programs and opportunities aimed at elevating the clinical paradigm for NMO patients and improving options for treatment, prevention, and an eventual cure for this disease.
We are committed to growing our on-line community for all NMO stakeholders, and to serving as a hub of leading-edge information resources as well as a gateway for all who seek to learn more. In our global outreach, we will continue to steward even more effective connections among academia, healthcare, industry and regulatory partnerships. By reducing barriers to cooperation, our mission is to bring breakthroughs from bench to bedside.
Fully aware that every moment makes a difference in the lives of those diagnosed with NMO, we are patient-centered and science-driven. With such innovations as our own bio-specimen collection network and repository, we dedicate ourselves to widening our outreach by continuing to grow the number of sites where patients can donate blood and clinical data vital for research. On a worldwide basis, we will continue to identify proof-of-concept clinical studies that lead to industry-sponsored clinical trials for promising NMO drugs. Our Foundation does not endorse, sponsor, or conduct these trials. Nor do we opt to participate in any monetary benefit from patents arising out of research we have funded; our grantees—individuals and institutions—retain full ownership of their intellectual property.
We recognize that our findings may serve as a model for helping address the global epidemic of autoimmune diseases and are resolute in developing improved communication tools that share our story of hope and urgency. And as we position ourselves at the nexus of brave new breakthroughs in medicine, genetics, and bio-technology, we remain steadfast in our own investment of heartfelt resources now in excess of $55 million. We likewise welcome the interest and support of new and allied stakeholders. The Guthy-Jackson Charitable Foundation devotes 100 percent of all funding gifts to basic research centers.
Founders
Back
Founders
Bill Guthy and Victoria Jackson have each achieved extraordinary success as self-made entrepreneurs. Bill may be best known as a founding principal partner of direct marketing giant Guthy-Renker—the infomercial/media pioneer—while Victoria, a Hollywood makeup artist turned businesswoman, revolutionized the beauty world as the founding CEO of the iconic brand, Victoria Jackson Cosmetics. Longtime philanthropists on behalf of many worthy causes, the couple shifted their focus closer to home in 2008 when their beautiful teenage daughter Ali was diagnosed with neuromyelitis optica (NMO)—a life-threatening autoimmune disease. Upon learning that even the top medical authorities knew little about NMO, Bill and Victoria moved at record speed to establish the Guthy-Jackson Charitable Foundation.
By drawing from their respective areas of expertise as entrepreneurs—with Victoria leading the charge, becoming a mom on a mission, and "trading in mascara for medicine"—they soon defied the often slow-moving pace of medical breakthroughs. Through vision and marketing savvy, GJCF's founders developed innovative communication tools to galvanize a community into being that didn't exist before. Their efforts effectively connected the world's preeminent experts from multiple fields in an unprecedented paradigm of collaboration. Based on best business practices, the Foundation's policies ensure that all funded projects remain on the critical path to solving NMO. Their team's efficient approach to scientific and clinical discovery has pioneered a new scientific research model – one that has laid the groundwork for such innovations as:
NMO Bio-Repository and collection network for biospecimens and clinical data;
NMO International Clinical Consortium accelerating breakthrough advances for NMO patients;
GJCF Industry Council synergizing clinical advances to create more effective, safe and timely treatments for NMO patients while facilitating clinical trials;
NMO Roundtable Conferences & Patient Days engaging dialogues between scientists, clinicians, patients and members of the NMO community;
NMOtion online tool establishing the first registry for NMO patients for industry-sponsored clinical trials;
NMO Resource Guide informing patients, families and caregivers of education and awareness.
In the Foundation's short history, under the leadership of Victoria Jackson and Bill Guthy, there has been a sea change on behalf of NMO patients everywhere—including their daughter Ali, a recent college graduate and young entrepreneur in her own right, and who, alongside her parents, has become a vocal advocate on behalf of all working for better therapies, better lives, and a cure for NMO.
Victoria Jackson
Back
Victoria Jackson
Mother, wife, philanthropist, author, Hollywood make-up artist turned cosmetics entrepreneur, infomercial/media pioneer, and founder of the Guthy-Jackson Charitable Foundation (GJCF). These are only a few titles that apply to the incomparable, inspirational Victoria Jackson.
Back
Victoria Jackson
As founder/CEO of the global brand, Victoria Jackson Cosmetics, Victoria revolutionized the beauty world of the '80s and '90s with a more natural approach to make-up—not only creating a sensual new aesthetic for her superstar clientele but also championing the intrinsic beauty of every woman. She then challenged the status quo of the infomercial industry after convincing investors to back her line as the first of its kind ever marketed on television. Within a week after the launch of that initial infomercial, Victoria Jackson Cosmetics hit one million dollars in sales. Twenty-seven years later, the iconic beauty line is still going strong—with a devoted following of satisfied and loyal customers around the world. All the while, Victoria's role as a "goodwill ambassador for make-up" has continued to evolve.
A passionate activist on behalf of women's empowerment and entrepreneurship she has spent countless hours as a volunteer at correctional facilities, hospitals, and in youth support programs, and currently sits on the board of the Los Angeles County Museum of Art, as well as the board of UCLA Health Systems.
In 2008, Victoria's focus shifted dramatically from mascara to medicine after her beautiful teenage daughter Ali was diagnosed with neuromyelitis optica (NMO)—a devastating, rare autoimmune disease. At a time when little was known about this potentially fatal disorder of the central nervous system, Victoria and her husband Bill Guthy—of the infomercial giant Guthy-Renker—established the Guthy-Jackson Charitable Foundation to fund the life-saving research needed to better understand, treat, and ultimately cure NMO. Victoria has led the work of the foundation to achieve quantum progress—and at record speed. Today, with the start of industry-sponsored clinical trials and with funding for new NMO research from the National Institutes of Health (NIH), there is real hope—where once the future for NMO patients was uncertain. Indeed, the landscape has altered so meaningfully that recent findings promise that NMO can be solved. And that solution will have vast applications for treating other autoimmune diseases like multiple sclerosis and lupus.
Victoria Jackson is also a prolific author who most recently joined her daughter Ali Guthy to co-author the acclaimed Saving Each Other (Perseus Books 2012), a chronicle of their mother-daughter journey to overcome the odds of a terrifying diagnosis. Ms. Jackson's two previous top-selling works include Redefining Beauty (Warner Books 1993) and Make Up Your Life: Every Woman's Guide to the Power of Makeup (HarperCollins, 2000). As an in-demand lecturer and media veteran, Victoria has been featured in numerous outlets that include the Los Angeles Times, USA Today, and the Huffington Post. She has appeared on such programs as Ellen, the Dr. Oz Show, Marie, and on AARP TV's My Generation. Together with famed director Jesse Dylan and his team at Wondros Global films, Victoria has produced a series of documentaries about the strides being made to unravel and cure NMO.
The proud mom of three children—Evan, Alexandra and Jackson—Victoria and her husband Bill make their primary residence in Los Angeles.
Bill Guthy
Back
Bill Guthy
Bill Guthy, self-made entrepreneur and passionate philanthropist, is the founding principal of direct marketing giant Guthy-Renker – the infomercial/e-commerce pioneer that generates more than $1.5 billion in annual sales.
Back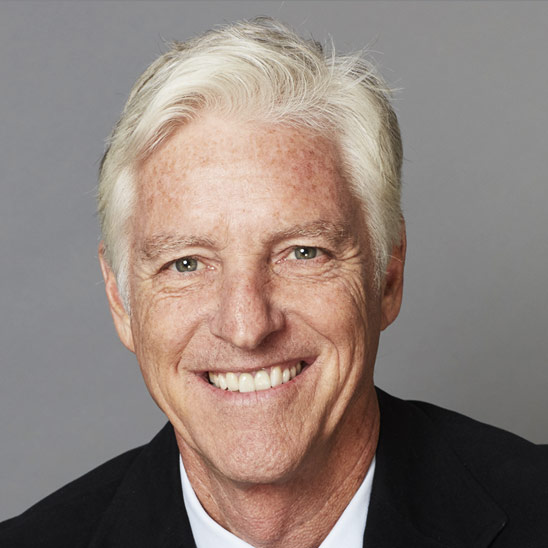 Bill Guthy
Guthy supported himself through college by duplicating educational audiotapes for the blind.  After graduating college, he founded Cassette Productions Unlimited (CPU), his own audiotape duplication and packaging firm, and had occasion to fill a large order for a client then running an infomercial to sell cassettes of his real estate course. Guthy concluded that, "If I could start my own infomercial company, I could be my own best customer."  After joining forces with friend and fellow entrepreneur Greg Renker, the two acquired the rights to Napoleon Hill's "Think and Grow Rich" and to the author's lectures for an audiotape series. They hired football star Fran Tarkenton as their first pitch man and went on to gross nearly $10 million in their first infomercial foray.
Guthy-Renker, founded in 1988, quickly debuted the Anthony Robbins Personal Power program, a marketing phenomenon, and continued to grow from there, setting industry standards with highly targeted communication platforms for products such as Principal Secret (Victoria Principal's skin care line), Proactiv Solution acne treatment, promoted by stars ranging from Vanessa Williams to Adam Levine and Justin Bieber, Meaningful Beauty with Cindy Crawford, and WEN haircare with Chaz Dean.
In 2008, when his teenage daughter was diagnosed with NMO, a life-threatening autoimmune disorder, Bill Guthy and his wife Victoria Jackson established the Guthy Jackson Charitable Foundation to champion basic scientific research to find new treatments and ultimately a cure for NMO.   Since the beginning, GJCF has put forward a new paradigm by funding and encouraging multi-disciplinary medical collaboration between research institutions, physician/scientists and Pharma.
Bill Guthy has been honored as one of Inc.'s "Entrepreneurs of the Year" and early on was named by Fortune Magazine as one of "America's Smartest Young Entrepreneurs".  In addition to passions that include travel, the arts, education, sports and the outdoors, Guthy is, above all, a devoted dad and family man. 
Ali Guthy
Back
Ali Guthy
An activist, advocate, and author, Ali has addressed a range of subject matter that reflects her passion for public service and her focus on the principle of beneficence—a lifelong commitment to positively impact the lives of others.
Back
Ali Guthy
Twenty-three year old Ali Guthy has been recognized from an early age for her leadership acumen and her gifts as a spokesperson. An activist, advocate, and author, Ali has addressed a range of subject matter that reflects her passion for public service and her focus on the principle of beneficence—a lifelong commitment to positively impact the lives of others.
In June 2015, Ali graduated with honors from the University of California, Santa Barbara (UCSB) with a double major in Psychology and Sociology. While at UCSB, she served as Associated Students President, representing the entire undergraduate student body—as many as 20,000 students—on all local, state, and national levels. Her duties included managing a budget of $10.6 MM and supervising 33 career staff members as well as more than a 300-student staff. During her time at UCSB, Ali also served as the Hunger-Houseless Coordinator for the Community Affairs Board (CAB), organizing weekly volunteer events to serve meals to the local houseless community. Additionally, Ali co-Founded, and served as President of Swipes for the Houseless, a program that enables students to donate unused meals from their college dining plan to those impacted by hunger.
Ali's leadership journey has no doubt been shaped by the diagnosis, received at age fourteen, of Neuromyelitis Optica (NMO)—a rare autoimmune disease with devastating consequences and no known cure. Ali is a co-Founder of the Guthy-Jackson Charitable Foundation that she and her parents established to fund lifesaving research and accelerate a cure. Since 2008, Ali has served as the public face of NMO to help transform the medical landscape. As the author of several articles and the co-author of the memoir, "Saving Each Other – A Mother-Daughter Love Story" she has shared her miraculous, empowering story with a wide range of audiences.
In May 2016, Ali Guthy was invited to speak at the Vatican's Third Annual Conference on Regenerative Medicine and received an honor for her ongoing advocacy.
Ali currently resides in Los Angeles.
Our Team
Back
Our Team
Christopher Clinton Conway, J.D.

Executive Director

Christopher is an accomplished and globally engaged nonprofit leader serving high-net-worth individuals in pursuit of meaningful impact.

He is responsible for planning, implementing, supervising and assessing The Guthy-Jackson Charitable Foundation's newly established Strategic Plan. Leading with a clear vision for the organization's future growth and development, Christopher is a highly visible representative of the foundation and is responsible for developing and maintaining strong relationships with external constituencies.

Christopher launched his career assisting Former U.S. President Jimmy Carter and First Lady Rosalynn Carter pursue an innovative global health agenda at The Carter Center of Emory University. Immediate past President & Executive Director of The Joffrey Ballet, Christopher also held key development positions at the Los Angeles County Museum of Art (LACMA), and forged an historic partnership between the Doheny Eye Institute and UCLA Stein Eye Institute.

A sought after speaker and consultant, Christopher is well known for equal emphasis on outcomes, efficiency and style. He received his A.B. from the University of Illinois at Urbana-Champaign, was a Visiting Scholar in Gift & Estate Tax at Northwestern University and earned his J.D. from Washington University in St. Louis.

Jacinta M. Behne, M.A.

Deputy Director

Mrs. Behne's career in education and management spans three decades and multiple platforms from university lecturer to education researcher. She received her Bachelor of Arts with licensing in Secondary Education at Washburn University, Topeka, KS; licensing in Gifted Education at Kansas State University, Manhattan, KS; and Master of Arts in Communication at Colorado State University, Fort Collins, CO. Her specific expertise is in program development, budget management, and translating complex science content for public venues. Mrs. Behne served as a NASA contractor for many years in the area of education and public outreach. During that period, she worked with three launch teams and collaborated with NASA centers and staff, including researchers, engineers, and public information officers. As such, she refined processes and protocols for reaching out to learning communities and the public through the World Wide Web, national conferences, print materials, and media applications. In her work with The Guthy-Jackson Charitable Foundation (GJCF), Mrs. Behne works to build a team-driven infrastructure dedicated to curing Neuromyelitis Optica (NMO), a misunderstood and often misdiagnosed disease by: a) funding critical path research and b) connecting global communities of researchers, industries, and patients. Mrs. Behne is a member of the American Academy of Neurology (AAN), National Organization for Rare Disorders (NORD), and serves as a solicited reviewer of NASA education products and as a presenter at annual conferences. She has published several articles on the importance of building and delivering effective education and public outreach programs to ensure successful community engagement.

Judy Sheard, M.P.H., M.A., C.C.R.A., C.C.R.C.

Senior Manager – Clinical Studies

Judy's clinical research experience includes positions at academic research sites, biotech and pharmaceutical companies and a contract research organization. She spent 20 years at Scripps Health, serving as Research Manager for numerous obesity and diabetes studies, and most recently as a Senior Manager at the Scripps Translational Science Institute. There she managed trials in genomics and wireless medicine, with activities including protocol development, site management and staff training. Ms. Sheard holds a Master of Arts degree in psychology and a Master in Public Health degree with an emphasis on Health Promotion. She is certified as a Clinical Research Coordinator (CCRC) and Clinical Research Associate (CCRA) by the Association of Clinical Research Professionals.

Daniel W. Behne, M. Arch

Director of Operations

Dan has been working with the foundation since it was formed in 2008. His numerous roles during this time started with patient advocacy, office oversight and project management. This has led to his current role as Director of Operations to include budgeting, accounts payables, online donations, human resources, IT management and annual conference and meeting coordination.

Megan Kenneally

Manager – Research Relations & Contracts

Megan began working with the foundation in 2009. Her numerous roles during this time have included office and event support, contracts administration, and document management. This has led to her current role as Manager of Research Relations and Contracts. In this role, Megan provides research contract management, communications with the International Clinical Consortium (ICC), and event management and communications.



Brian Coords, M.A.

Manager – New Media

After a diverse background in media, design, writing, and education, Brian began working with the foundation in 2015. In his role as the New Media Manager, Brian provides leadership and project management for media projects including the foundation's website, smartphone app, conference events, and other various print and digital materials.